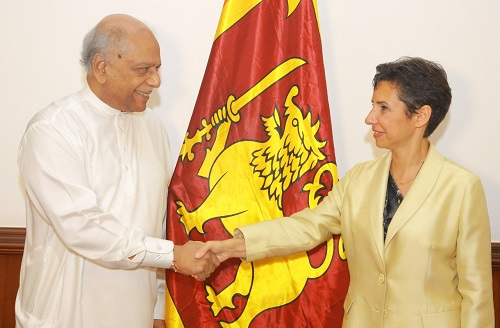 New BOI rules will ease business in Lanka, PM assures potential Turkish investors
Prime Minister Dinesh Gunawardena has assured the newly introduced relaxed visa regulations and investment facilitation schemes of Board of Investment will help to attract more Turkish investors to Sri Lanka.
He said this when Ambassador of Turkey Rakibe Demet called on him at the Prime Minister's Office on Friday and informed him about difficulties faced by some of the Turkish businessmen in obtaining long-term residential visas.
Ms Demet thanked the Prime Minister and said this assurance would help her Embassy's efforts to promote Turkish investments in Sri Lanka.
The Prime Minister said Turkey has the opportunities now to invest in new sectors such as production of agricultural machinery, medicine, pharmaceuticals and medical equipment and renewable energy and fisheries sectors.
They also discussed the plans for tourism promotion and expand Turkish Airlines' Ankara-Colombo-Male flights. Currently the Turkish Airlines operates two flights a week between Istanbul and Colombo.
YOU MAY ALSO LIKE