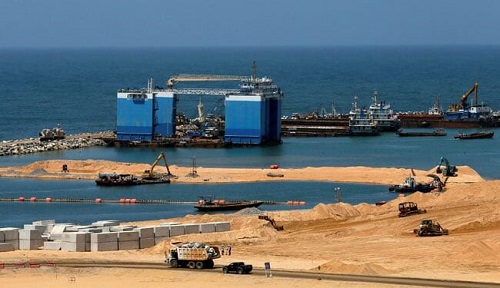 Lanka to offer 40-year special tax relief to Colombo Port City investors
Sri Lanka has decided to offer a special 40 year tax concession to those investing in Port City, Colombo in a bid to fast attract investors who have been slow to look at prospects in the zone due to prevailing negative economic environment.
The Chinese backed port city project has so far failed to attract investments after it was opened nearly one year ago.
Cabinet spokesman Bandula Gunawardana told the weekly media briefing on Tuesday that this decision was taken because other countries have offered more competitive tax relief to attract investors.
He said that with the current economic recession, attracting investors is a challenge and some local investors are moving to countries such as Bangladesh, Ethiopia and Kenya who have offered more favourable investment opportunities.
The Prime Minister Ranil Wickremesinghe in his capacity as the Minister of Finance, Economic Stabilization and National Policies had sought the approval of the Cabinet Ministers to grant this special tax holiday.
In the first quarter of 2022, Colombo Port City Economic Commission (CPCEC) had concluded land lease agreements worth US$ 200 million with investors who had committed to make US$ 600 million worth investments.
This year the CPCEC was targeting to complete US$ 600-800 million worth land sales. However, the investor interest has come down drastically after the country declared pre-emptive default on its external debt in April.
The 169 hectare reclaimed land declared as a special service export processing zone is expected to generate 143,400 direct jobs adding US$ 13 billion to the country's GDP when fully operational.
YOU MAY ALSO LIKE