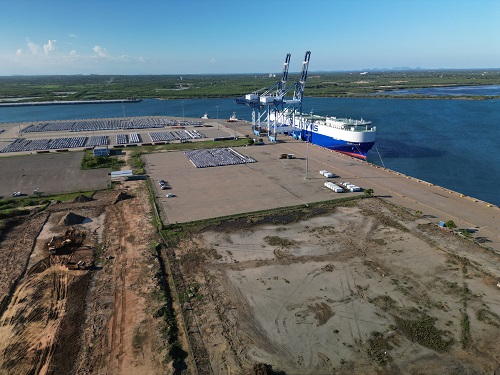 HIP invests US$ 8 million in new RORO yard
With more RORO ships calling at the Hambantota International Port (HIP), the port will be adding a further 5000 slots to accommodate transshipment vehicles. HIP, which currently has the capacity to accommodate approximately 28,000 units, services nine main shipping lines who actively use the port for transshipment of RORO cargo. With large volumes expected via several shipping lines in the coming months, the port management considers the rapid expansion of the RORO yard an urgent necessity.
In line with that, HIPG has made a US dollar 8 million investment to build another 68,000 m2 of parking space. The facility which will be completed within the next 7 months, will have a yard to berth distance of 55m.
"HIP is becoming an attractive destination for RORO transshipment due to a combination of factors, the top most marketable aspect being our reliability, closely followed by our safety standards, speed of execution and strategic location. As the global economy gradually improves, we expect to see a further increase of our volumes. In order to give confidence to its customers, HIPG will continue to make investments in areas of strategic importance to the long term development of HIP. This is a continuous process and is done in line with global trends to build capacity ahead of demand," says Tissa Wickramasinghe, COO of Hambantota International Port Group.
RORO volumes at HIP have reached over 271,000 units as at May 2023, and the port plans on seeing a significant growth in the number by the close of the year
YOU MAY ALSO LIKE