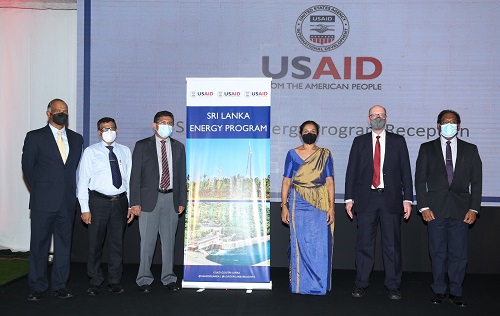 USAID announces new $19m project support for Sri Lanka's renewable energy goals
The United States Agency for International Development (USAID) announced its new $19 million, 5-year Sri Lanka Energy Program. Once finalized, this grant will support the Government of Sri Lanka's vision to increase the generation of renewable energy to 70% by the year 2030 and will contribute to the transformation of Sri Lanka's power sector into a market-based, secure, dependable, and long-term system.
"Government coordination, community engagement, and private sector participation are key to expanding the generation of renewable energy," said USAID Mission Director Reed Aeschliman. "We are excited to partner with Sri Lanka as it prioritizes renewable energy to fuel its economic and social development."
The Sri Lanka Energy Program's local and international experts and partners will accelerate renewable energy adoption through promoting energy efficiency, strengthening the grid to accommodate increased renewable energy, and catalyzing private sector investment in the energy sector.
They will identify low-cost, competitive options for renewable energy and support start-ups in the sector to encourage the development and deployment of innovative technologies.
Further, the initiative will work to safely and reliably deliver affordable electricity to all citizens to help power a competitive, 21st century economy in Sri Lanka.
Speaking at a reception, the Secretary of the Ministry of Power said, "Sri Lanka has now committed to the Nationally Determined Contributions of reaching 70% share of renewable energy by 2030 for the power sector and carbon neutrality by 2050. These are mammoth targets and we have to put a lot of effort to reach them."
"Therefore, in doing so your support, assistance, and encouragement will be critical. To help support a clean, green country we will also need to coordinate efforts between all stakeholders responsible for energy efficiency".
This is one component of the longstanding partnership between the American and Sri Lankan people to support Sri Lanka's development journey and promote economic development. USAID's program in Sri Lanka, totaling more than 350 billion LKR ($2 billion) since 1961, promotes a healthy, educated, and employed population.
YOU MAY ALSO LIKE