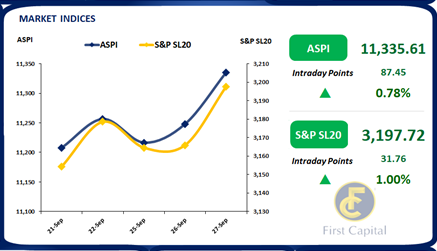 Rating upgrade ignites turnover to hit the billion mark after 2 days
Bourse rallied with a gain fueled by bullish optimism continuing its winning streak from the previous session. Both the ASPI and S&P SL 20 indices closed in the green zone at 11,336 and 3,198, respectively, reflecting renewed confidence following S&P Global's upgrade of Sri Lanka's local currency rating from SD (Selective Default) to CCC+/C post domestic debt restructuring
.
This positive sentiment also bolstered the market turnover which was recorded at LKR 1.4Bn, albeit 5.4% lower than the monthly average turnover of LKR 1.5Bn. Furthermore, after two consecutive days of foreign buying, a shift to foreign selling was witnessed on JKH, totaling LKR 41.0Mn.
Meanwhile, MGT and DIPD gained momentum following their dividend announcements during the day. Retail activity was evident in the Food, Beverage, and Tobacco sector, contributing 16% to the market turnover, while the Capital Goods sector took the lead, making the highest contribution at 26%. Additionally, there was a resurgence of investor interest in treasury shares, spurred by the dip in yield rates across the board after yesterday's T-bill auction.
Secondary market on a standstill ahead of the IMF decision
The secondary bond market took a standstill approach, ahead of the IMF decision for the signing of the staff level agreement for the first review of the IMF Extended Fund Facility (EFF) arrangement. However, slight selling interest was observed on the 01.06.26 maturity, which observed few trades at 15.60%.
Courtesy: First Capital Research
YOU MAY ALSO LIKE