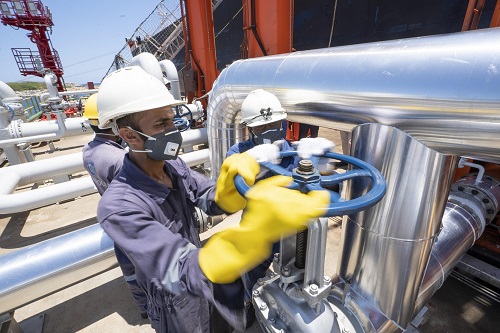 HIP supplies over 80% marine bunkers to Sri Lankan market
The Hambantota International Port Group (HIPG) has benchmarked a 500,000 ton volume in their bunkering business during the first eight months of 2023. The throughput which is five times in volume compared to 2022, is attributed to the port's strategic partnership with Sinopec Fuel Oil Lanka Limited (SFOL), for the supply and trade of marine bunker fuel.
Through the offer of marine bunker fuel at competitive pricing to local bunker suppliers, HIP has facilitated the supply of over 80% of the marine bunker market in Sri Lanka this year. HIP's overall oil and gas throughput to date was further complemented, with the handling of 150,000 tons of liquified petroleum gas.
"These numbers, which are proof that the port is moving towards the target status of an energy hub, were made possible owing to the aggressive proactive measures taken by HIPG to invest in the refurbishment of our tank farm facilities and upgrading them to Lloyds Standard specifications" says Tissa Wickremasinghe, COO of HIPG.
"We have also introduced an independent ISO certified oil testing laboratory facility at the tank farm premises for the convenience of our partners. This lab facility provides Shipping Lines with the critical advantage of obtaining oil quality reports on a real time basis. The laboratory, run by Intertek UK is the only such facility available in Sri Lanka."
The Hambantota Port and strategic partner Sinopec have worked together to uplift the marine bunker business based at the port since 2022. They introduced the supply of very low sulphur fuel oil (VLSFO) to ocean going vessels, for the first time in South Asia. Apart from bunkers for main line merchant vessels plying the main East to West Shipping route, HIP's strategic location benefits various other Shipping Lines whose vessels call at the port for normal cargo operations by also providing bunkering facilities.
The collaborative efforts between HIPG and SFOL have actively encouraged local marine bunker suppliers to expand their services based at HIP, resulting in significant results, in terms of growing the demand for refuelling services. Over 110 international vessels, covering various categories including container, bulk cargo, tankers, and other, have refuelled at HIP this year, gradually positioning it as an energy supply hub along the Far-East to Europe shipping routes.
The thriving marine bunker business at the port has also led to the inflow of much needed USD to Sri Lanka, contributing to the country's economic recovery. It has also opened up more employment opportunities in related industries and ancillary services providers.
Johnson Liu, CEO of HIPG says the company will continue to invest in expanding the port's tank farm capacity to meet future demand. "We will leverage our geographic location advantage as well as our partnership with Sinopec Fuel to expand our already flourishing marine bunker business. Taking into account the recent surge experienced in marine bunkers and LPG business, we have made plans to grow our already comprehensive maritime services, which includes exploring the potential to provide clean energy refuelling for vessels, along with ancillary services such as lubricants."
The CEO says HIPG's vision to establish the port as a regional energy hub will further strengthen its marine services such as ship lay-ups, ship repairs, ship chandling, ship crew changes, and the provision of ship engineering stores facilitated through local third party agencies. "I am confident all of these strategic endeavours will position the Hambantota International Port as a pre-eminent global maritime hub in the years to come," he adds.
YOU MAY ALSO LIKE