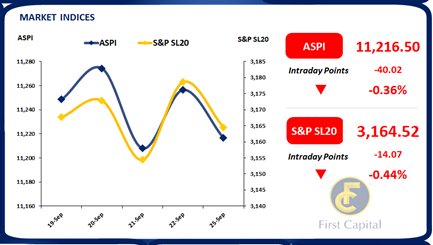 Investor jitters push turnover to a near 4-month low
The market adopted a cautious tone during the day as investors grappled with uncertainty in anticipation of tomorrow's pivotal meeting between the President and the IMF, marking the conclusion of the first review of the IMF program for Sri Lanka.
This cautious sentiment exerted downward pressure on the index which closed in the red at 11,217, recording a decline of 40 points.
Furthermore, the hotel sector displayed slight interest during the day, likely in anticipation of the upcoming tourist season.
Additionally, there was notable foreign activity in JKH, which topped foreign buying totaling LKR 19.0Mn. Conversely, the banking sector experienced modest selling pressure during the trading session.
Meanwhile, the day's market turnover reached LKR 550.0Mn, marking nearly a 4-month low and reflecting a 68% decrease compared to the monthly average turnover of LKR 1.7Bn.
Notably, the Capital Goods sector led the overall turnover with a contribution of 32%. Foreign investors sustained their net buying position for the second consecutive session, with an inflow of LKR 13.2Mn during the day.
Bond auction notches a full acceptance
CBSL conducted the second bond auction for month of September raising LKR 220.0Bn while fully accepting the offered of LKR 135.0Bn from 01.06.2026 maturity and accepting LKR 85.0Bn from 01.07.2028 maturity at weighted average yield rates of 15.64% and 14.52%, respectively. However, activities remained dreary in the secondary market as investors continued to bide time. In the meantime, slight buying appetite was witnessed on the short end with 02M and 03M bills trading at 17.20%. Moreover, selling interest emerged on 01.07.2025 which hovered in the range of 15.35%-15.70% during the day in the midst of thin volumes.
Courtesy: First Capital Research
YOU MAY ALSO LIKE