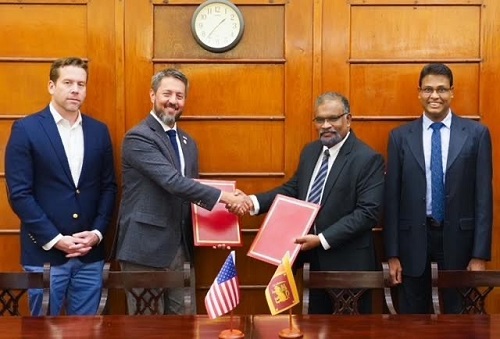 United States to Increase development investment in Sri Lanka by US $19.2m
The United States announced its commitment of more than US $19 million in additional funds to further the development of Sri Lanka, in a ceremony at the Sri Lanka Ministry of Finance.
The U.S. $19.23 million (Rs 6.2 billion) is obligated through the Development Objective Grant Agreement between the United States Agency for International Development (USAID) and the government of Sri Lanka. This development assistance will support economic growth and democratic governance activities and demonstrates the ongoing U.S. commitment to its partnership with Sri Lanka and in building lasting people-to-people ties.
The signing was commemorated in a ceremony with Mission Director Gabriel Grau and K M Mahinda Siriwardana, Secretary to the Treasury, Ministry of Finance Sri Lanka.
"This investment demonstrates the United States' ongoing commitment to our partnership with Sri Lanka and our steadfast support to the people of this stunning, opportunity-filled country, as USAID Administrator Samantha Power and President Wickremesinghe discussed in New York," said Gabriel Grau, USAID Sri Lanka and Maldives Mission Director. "With these funds we'll continue to work with the government of Sri Lanka to improve economic growth and democratic governance and advocate for vulnerable populations."
"The people of Sri Lanka appreciate the continued close collaboration and the very cordial partnership and support extended by the Government of the United States of America to Sri Lanka," said Secretary Siriwardana. "This grant will reinforce the government's efforts to strengthen a democratic, prosperous, and resilient Sri Lanka."
The United States has provided more than $2 billion (nearly Rs720 billion) in assistance to Sri Lanka since 1956
YOU MAY ALSO LIKE