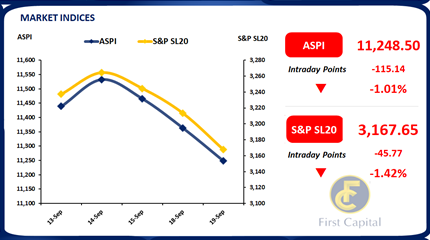 ASPI on a downhill trend
The Colombo bourse displayed a downward trajectory as the market came down for the 3rd consecutive session closing at 11,249 losing 115 points influenced by the uncertainty regarding the ongoing IMF review meeting focusing on obtaining the second tranche.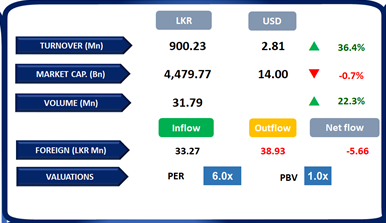 Moreover, Banking sector shares alongside blue-chip companies showcased significant decline on the index as they topped the negative contributors list resulted by the investors adapting to a streak of profit booking as selling pressure mounted on the above stated counters which later extended on MELS and JKH as the day progressed.
On the flip side Consumer Durables sector experienced improved interest during the day as the investors displayed active buying interest on MGT. Meanwhile the market turnover remained thin recording at LKR 900.2Mn, 57% lower than the monthly average of LKR 2.1Bn contributed by the Food, Beverage and Tobacco sector (31%), Banking sector (17%) and Capital Goods sector (16%). Furthermore, foreign investors turned net sellers recording an outflow of LKR 5.7Mn.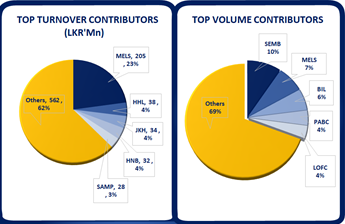 Mixed trading day with a dash of selling pressure
The secondary market experienced some mild selling pressure today, with various maturities displaying mixed trading activities. Notably, the 01.06.25 and 01.07.25 maturities traded within the range of 15.25%-14.75%. Selling interest emerged on mid-tenors, including the 15.05.26 maturity, which traded at 15.00%, the 01.08.26 maturity, which saw trades ranging from 14.35%-14.85%, and the 15.09.27 maturity, which traded between 14.25%-14.40%.
In addition to these market movements, CBSL announced the issuance of LKR 170.0Bn in T-Bills through an auction scheduled for September 20th, 2023. Out of this, LKR 70.0Bn is expected to be raised from 91-day maturity, LKR 60.0Bn from 182-day maturity, and LKR 40.0Bn from 364-day maturity. Furthermore, in the forex market, the LKR experienced a slight depreciation against the USD, with the exchange rate recorded at LKR 323.7, compared to yesterday's closing rate of LKR 323.4.
Courtesy: First Capital Research
YOU MAY ALSO LIKE