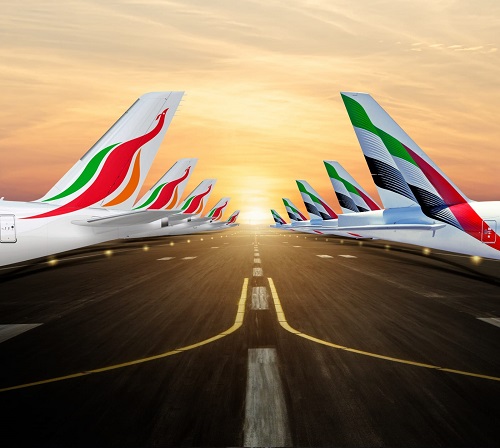 Emirates and SriLankan establish reciprocal interline partnership
Emirates and SriLankan Airlines have signed a reciprocal interline agreement to boost connectivity for passengers of both airlines. The partnership will enable access to new points on each other's networks via Colombo and Dubai, utilising a single ticket and enjoying the convenience of baggage transfers. Tickets are now on sale for travel effective immediately as the interline partnership unlocks 15 regional destinations operated by SriLankan Airlines via Colombo, for Emirates' passengers to choose from.
The interline network includes two new Indian destinations, Madurai and Tiruchirapally, in addition to Gan Island in the Maldives, for customers to travel seamlessly on a single ticket while enjoying the convenience of a generous baggage policy and hassle-free baggage check-through to the final destination. Far East and South Asian destinations also include Cochin, Chennai, Bangalore, Hyderabad, Malé, Bangkok, Kuala Lumpur, Singapore, Jakarta, Guangzhou, Seoul and Tokyo. SriLankan Airlines' passengers are also set to benefit from access to Emirates' global network and connect to 15 cities operated by Emirates beyond Dubai.
The interline network includes points across the Middle East, Africa, Russia and the US. SriLankan's customers will enjoy a premium travel experience and partnership benefits while flying on Emirates to Bahrain, Amman, Dammam, Medina, Cairo, Muscat, Nairobi, Moscow, Tel Aviv, and a host of US cities including New York JFK, Los Angeles, San Franciso, Chicago, Boston and Houston.*
Travel itineraries can be booked immediately on emirates.com, srilankan.com and preferred online and offline travel agencies. Adnan Kazim, Emirates' Chief Commercial Officer said: "We are pleased to activate an interline partnership with SriLankan and provide our customers with more choice and access to additional destinations to suit their travel plans. This partnership enables customers to seamlessly fly to unique destinations in India and the Maldives, via Colombo. We look forward to further developing our cooperation in the near future and enhancing benefits that customers can enjoy when travelling with Emirates and SriLankan on one ticket."
YOU MAY ALSO LIKE