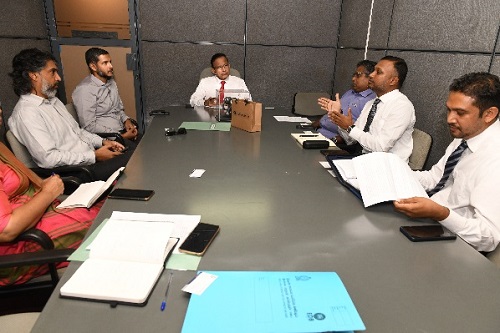 A Collaborative Vision to Revitalize Sri Lanka's Mineral-Based Industry
Export Development Board (EDB) has identified value added Mineral products sector as a potential sector to be developed and promoted in the international market. Sri Lanka possesses a wealth of industrial minerals that can be processed and transformed into value-added products. This value addition can create higher-value exports, generate more employment opportunities, and contribute to the country's economic growth.
In this regard, a meeting was held with the members of Chamber of Mineral Exporters (CME) and EDB recently to fostering unprecedented growth in Sri Lanka's mineral sector. Chaired by Dr. Kingsley Bernard, the Chairman & CEO of EDB, the meeting witnessed the participation of stalwarts from both the organizations coming together to carve out a path to prosperity for the mineral-based industry in Sri Lanka. The CME was represented by its Chairman, Mr. Amila Jayasinghe of Bogala Graphite Lanka PLC, Mr. A F M Farook, Vice Chairman CME, from COO of Ceyquartz MBI (Pvt) Ltd., Ruhunu Lanka Minerals, Dr. Sandun Dalpatadu, the Secretary of CME from Damsila Resources (Pvt) Ltd. & Krishna Mining Company (Ceylon) (Pvt) Ltd., Mr. Mohammed Yaasir, Treasurer CME from Mirama Quartz Industries (Pvt) Ltd., and Mr. Jaliya Gunasena, ExCo Member CME, representing Lanka Minerals and Chemicals (Pvt) Ltd. & LANMIC Exports (Pvt) Ltd.
During the meeting, the members of the Chamber of Mineral Exporters insisted on the governmental support in research and development to revising royalty systems grounded in pithead value, in line with international norms.
A significant proposal brought forth was a request for a 300% tax rebate for research and development activities in collaboration with Sri Lankan educational institutions. Additionally, the members of the CME emphasized the necessity for a fair and equitable approach to royalty calculations to ease the financial burden on mining entities.
The stakeholders advised the government to foster foreign investments and proposed the state to conduct a comprehensive ore reserves study to maintain transparency and informed decision-making within the industry. They also proposed the importance of securing international accreditation for the Geological Survey & Mines Bureau laboratory in collaboration with the Sri Lanka Standards Institution to enhance global credibility.
Furthermore, the members emphasized on the untapped potential of numerous pocket mines in Sri Lanka, advocating for the development of support industries equipped with state-of-the-art technology. The members of CME urged the government to consider duty waivers for the import of new technology and pertinent spare parts to foster innovation and elevate the sector to international standards.
A recurring theme was the call for a continuous forum involving policy makers and industry stakeholders, to facilitate practical discussions and foster innovative solutions to on-ground challenges.
The request of the members of the Chamber of Mineral Exporters is the government intervention to bring these groundbreaking proposals to fruition, laying the foundation for a collaborative and prosperous future for Sri Lanka's mineral export industry.
YOU MAY ALSO LIKE