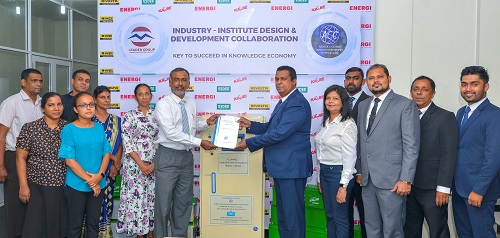 Leader Group sets new standards: surpasses Japanese Industrial Benchmarks
In a groundbreaking achievement, Leader Group, a renowned Sri Lankan battery manufacturer, has set a new industry benchmark by receiving the first locally produced high-tech Battery Capacity Tester from the prestigious Arthur C. Clarke Institute for Modern Technologies (ACCIMT). This marks a historic moment, as it's the first time the ACCIMT has prepared such a cutting-edge tester for a battery manufacturer in Sri Lanka.
The ACCIMT, a public research institution with a legacy of innovation, collaborated with Leader Group to create this revolutionary battery capacity tester. This state-of-the-art equipment has set the stage for Leader Battery to not only meet but surpass Japanese Industrial Standards (JIS) in various critical parameters, reaffirming its commitment to delivering high-quality batteries to its customers.
The test results of Leader batteries, when compared with the rigorous JIS, demonstrate the company's unwavering dedication to excellence:
1. Cold Cranking Amperes: Leader batteries have demonstrated remarkable performance, exceeding the JIS standards by delivering exceptional Cold Cranking Amperes (CCA). CCA measures a battery's ability to start an engine in cold temperatures, and Leader batteries have proven their mettle in extreme conditions.
2. Reserve Capacity (RC): With a Reserve Capacity that outshines the standards, Leader batteries ensure prolonged operation even in demanding situations. RC is a critical factor for batteries, and Leader batteries excel in this aspect.
3. Lifecycle Test: Leader batteries boast impressive Ampere Hour ratings, showcasing their endurance and reliability. They outperform JIS standards, guaranteeing longer-lasting power and reliability for consumers.
Dr. Shriyanthe Cooray, Chairman of Leader Group, expressed his enthusiasm about this milestone, saying, "To power the world with tomorrow's technology is our vision. We are on a mission to produce futuristic batteries for the world."
"This partnership with ACCIMT, under the visionary leadership of Dr. Panawennage, is a step towards making Sri Lanka a high-tech hub. The SilverCell technology in our batteries, coupled with this remarkable testing equipment, allows us to confidently say that Leader batteries exceed Japanese Industrial Standards."
Dr. Sanath Panawennage, Chief Executive Officer and Director General of ACCIMT, highlighted the broader implications of this achievement for the nation's economy, saying, "This embraces one of the key points that has been stressed repeatedly in the dialogue concerning the economic transformation in the country. The success of our economic transformation process hinges on how much of our export volume is genuinely high-tech."
He noted, "Today, we're discussing a product that not only streamlines high-tech manufacturing processes and supplies state-of-the-art products to global markets but is also versatile enough to be marketed to civilian manufacturers in this region and beyond."
Leader Group offers its products under the brand names Kaijie, Riyelta, ESDEE, Dhara, and Energ1, and there's an overwhelming demand from the public and racing enthusiasts for their high-performance batteries.
Leader Kaijie Battery Company, a subsidiary of the Leader Group, began its journey in 2016, specializing in battery manufacturing. Over the years, it has diversified its product range to include batteries for motorcycles, automotive, solar, UPS systems, and more. With a commitment to excellence, the company has established itself as a prominent player in the Sri Lankan battery industry. Its strategic partnerships with leading battery manufacturers on a global scale guarantee that its products consistently meet and surpass international standards.
As a testament to their unwavering commitment to quality, Leader Kaijie Battery holds the ISO 9001:2015 Quality Certification, a globally recognised benchmark for stringent quality standards. It stands proudly among the leading battery manufacturing companies in South Asia, with a substantial market share. Customers can purchase batteries of Leader brand from a network of over 1,200 dealers located islandwide.
YOU MAY ALSO LIKE