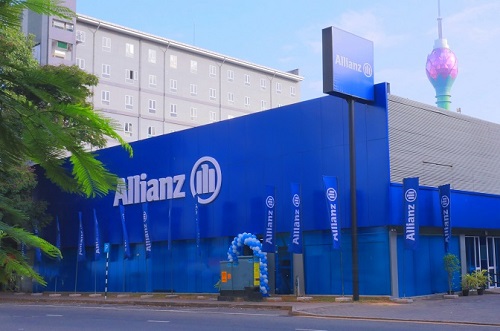 Allianz Lanka relocates its Customer Care Center at Union Place
Allianz Lanka, one of Sri Lanka's leading insurers and a member of the global Allianz SE Group, recently relocated its state-of-the-art Customer Care Center, from Borella to Union Place.
The newly relocated Allianz Customer Care Center is now conveniently located at No. 323, Union Place, Colombo 02. This strategic move aligns with Allianz Lanka's vision of providing easy access, including ample parking, for its valued customers, ensuring a seamless and convenient experience.
A special ceremony was held to mark the opening of the newly relocated Allianz Customer Care Center at Union Place on the 15th of August 2023, where a number of key personnel, staff and customers were present, including Alan Smee – CEO and Country Manager at Allianz Insurance Lanka Limited; Jayalal Hewawasam – CEO at Allianz Life Insurance Lanka Limited; along with rest of the senior leadership team. The presence of these high-ranking officials at the event underscored Allianz Lanka's dedication to superior customer engagement and service standards.
The newly relocated Allianz Customer Care Center now showcases a contemporary architectural design that sets new industry benchmarks. It boasts modern amenities and facilities, aligning perfectly with Allianz Lanka's unwavering commitment to maintaining global standards while fostering a customer-centric environment.
Alan Smee, CEO and Country Manager at Allianz Insurance Lanka Limited said, "We are thrilled to unveil our revamped Customer Care Center, marking a new era of accessibility, convenience and excellence. Our aim is to deliver world-class insurance solutions that resonate with our customers' needs, while ensuring a truly seamless, hassle-free experience."
Jayalal Hewawasam, CEO at Allianz Life Insurance Lanka Limited, echoed this sentiment adding, "This relocation underlines our unwavering commitment to enhancing customer experiences. We strive to deliver evolving insurance solutions that cater to the versatile needs of our customers, ensuring they receive the best possible service."
Allianz Lanka affirms the dedication towards advancing the standards in the insurance industry with this purposeful relocation. The company continues to position itself as a true partner in protecting what is most precious to its valued customers.
Allianz Insurance Lanka Ltd. and Allianz Life Insurance Lanka Ltd., known together as Allianz Lanka, are fully-owned subsidiaries of Allianz SE, a global financial services provider with services predominantly in the insurance and asset management businesses, headquartered in Munich, Germany. The global strength and solid capitalization of the Allianz Group, coupled with local expertise and business know-how, have been Allianz Lanka's powerful formula for success. With a legacy of excellence and a commitment to innovation, Allianz Lanka serves the diverse needs of its customers, nurturing a secure and prosperous future.
YOU MAY ALSO LIKE