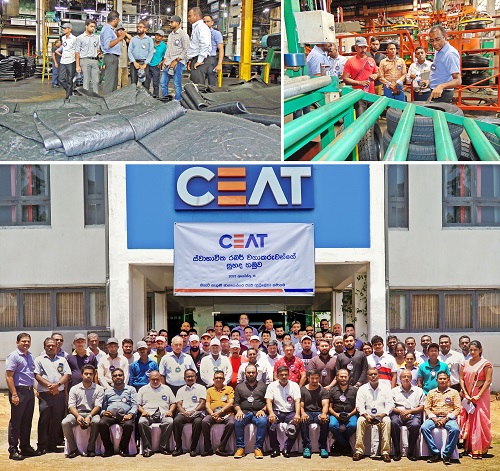 From field to export markets: rubber farmers see their latex transformed at CEAT Kelani
The transformative journey of rubber from the milky liquid latex tapped from the Hevea brasiliensis tree to sophisticated high-demand finished products in the global market is one that farmers know of, but don't often witness first hand, a situation that one major user of natural rubber in Sri Lanka is now rectifying.
CEAT Kelani Holdings, which manufactures nearly half of Sri Lanka's pneumatic tyre requirements, has started hosting rubber cultivators for conducted tours of the company's extensive manufacturing complex in Kelaniya, providing them with an insight into the intricacies of producing high-performance tyres for the domestic and export markets.
The first group of 45 rubber farmers and dealers from areas such as Padukka, Horana, Avissawella, Eheliyagoda, Ratnapura, Akuressa, Kegalle, Yatiyantota, Gonagaldeniya and Ruwanwella that visited the CEAT Kelani factory recently was briefed on the processes relating to the procurement of natural rubber, the stringent quality tests conducted on incoming rubber, the extreme care taken in storage of the precious raw material, the first-in- first out (FIFO) method used in inventory management and the entire manufacturing process from inception to completion.
A comprehensive demonstration of the in-process quality checks at the state-of-the-art manufacturing facility underscored the importance of maintaining consistently superior quality in the supply of natural rubber. A detailed presentation on the use of natural rubber in manufacturing and its impact on the quality of tyres, provided farmers an eye-opener on how a small miss in the tapping of rubber could impact product quality.
Commenting on this initiative, CEAT Kelani Holdings Managing Director Mr Ravi Dadlani said: "We purchase 100 per cent of our natural rubber requirements from local producers and so our success is important to the cultivators, a point that was effectively communicated in this relationship strengthening exercise. We were encouraged by the level of interest shown by the rubber farmers and dealers, and their grasp of the importance of maintaining quality in the entire supply chain."
Emphasising the importance accorded by the company to the visit, the rubber farmers and dealers were welcomed by the senior management team of CEAT Kelani led by Mr Dadlani and Director Mr Eraj Fernando.
The cumulative investment of CEAT Kelani Holdings in Sri Lanka exceeds Rs 8 billion. The company's manufacturing operations in Sri Lanka encompass tyres in the radial (passenger cars, vans and SUVs), commercial (nylon and radial), motorcycle, three-wheeler and agricultural vehicle segments.
YOU MAY ALSO LIKE