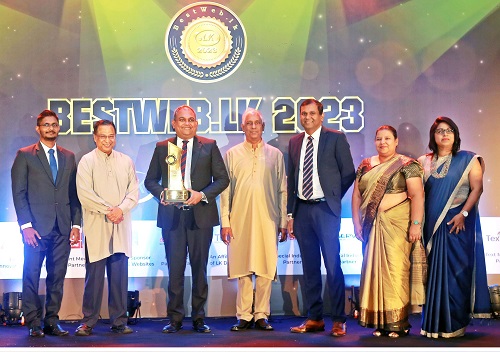 Combank.lk crowned best website in Sri Lanka
The corporate website of the Commercial Bank of Ceylon has won twin Golds as the Overall Winner and the Best Banking & Finance website in Sri Lanka at the 2023 BestWeb.lk competition conducted by the LK Domain Registry.
This is the second consecutive year that Commercial Bank won the top award in its category of business.
The extensive criteria used to grade websites for the BestWeb.lk awards consider a wide array of technical aspects as well as quality aspects that encompass functionality, ease of use, conformance and compliance with industry standards and protocols, performance efficiency, security and privacy, design aesthetics, content quality and the quality of interaction with users. The 13th edition of the BestWeb.lk awards presentation was held on 9th August at Monarch Imperial.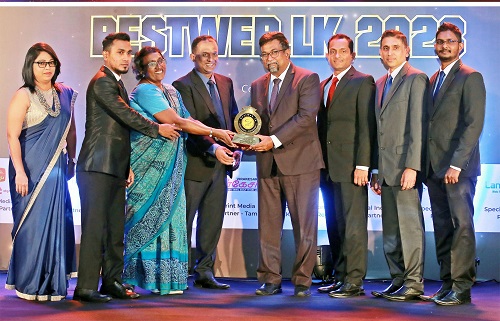 Commenting on the Bank's milestone achievement of being adjudged the best website in Sri Lanka across all categories, Commercial Bank's Deputy General Manager – Retail Banking & Marketing, Mr Hasrath Munasinghe said: "It is exhilarating to see the extremely valuable role our website now plays in promoting inclusivity in addition to convenience. There was a time when websites were used by an exclusive group of tech-savvy customers. Today, with trilingual access, enhanced user-friendliness and wide-spectrum functionality, our website has become an indispensable resource for millions of people. The endorsement the LK Domain Registry with the overall Gold award is therefore particularly significant."
The Commercial Bank website annually averages 6.8 million visits, 2.6 million users, 11 million page views and organic search traffic of 4.8 million. It was relaunched in 2021 with features such as trilingual access to content, ultra-smooth interface with interactive multimedia material, enhanced navigation, experience-customisation, smarter search options and tools, and resources that make it extra user-friendly and informative.
These factors were considered by the panel of judges comprising of ICT Industry experts including academics, professionals and business leaders, who judged the websites on technological expertise, creativity, quality of design, quality and quantity of content, interactivity, community purpose, mobile compatibility, and compliance with standards. During the final phase of the competition, the public was invited to cast votes via the organiser's official website.
Metrics such as completeness, navigation and performance were included under the Technical criteria, while overall quality of website design including site architecture, navigation ease, consistency and user-friendliness, and quality of individual page design based on overall aesthetics and professionalism factored under the Design criteria.
Meanwhile, the interactivity of the websites was judged based on the quality of interaction they incite with users, and privacy and security features. Multilingual websites in Unicode standards qualified under the 'Community Purpose' criteria. Further, entries were awarded bonus points for features such as multilingual access, accessibility for disabled persons, use of latest technology, and social media integration, and were penalised for copyright violations. All websites registered under the .lk domain were eligible to enter the competition.
No stranger to awards, the Commercial Bank website has won the Bank Standard of Excellence Award 2022, Best Mobile Website Award 2021, and Outstanding Website Award 2018, from the Web Marketing Association, USA; and Finance Sector Best Website or Microsite Award at SLT Zero One Awards 2017 and Best Website of the Year 2019 from the South Asia Partnership Summit & Business Excellence Awards (SAPS).
The LK Domain Registry is the national body that registers domain names ending in ".lk." It is an independent non-profit organisation that helps Sri Lankan organisations and individuals create their unique identities on the web. Launched in 2009, BestWeb.lk is a web-based competition that provides an exclusive opportunity to promote and popularise web presence in Sri Lanka.
Sri Lanka's first 100% carbon neutral bank, the first Sri Lankan bank to be listed among the Top 1000 Banks of the World, Commercial Bank operates a network of over 250 branches and 950 automated machines in Sri Lanka. Commercial Bank is the largest lender to Sri Lanka's SME sector and is a leader in digital innovation in the country's Banking sector. The Bank's overseas operations encompass Bangladesh, where the Bank operates 20 outlets; Myanmar, where it has a Microfinance company in Nay Pyi Taw; and the Maldives, where the Bank has a fully-fledged Tier I Bank with a majority stake.
YOU MAY ALSO LIKE