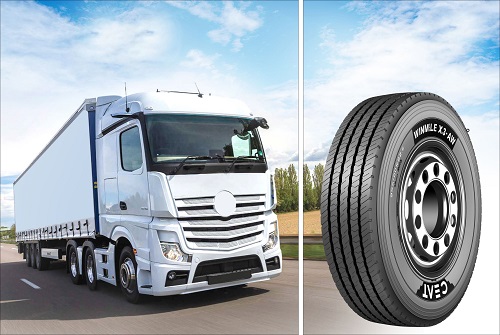 CEAT Kelani debuts new locally-made Truck Bus Radial for transport sector
A new high-performance premium commercial vehicle tyre has begun rolling off the production line at CEAT Kelani Holdings, Sri Lanka's largest manufacturer of pneumatic tyres.
The CEAT Winmile X3 AW is a Truck Bus Radial (TBR) in the 295/80 R22.5 TL size, making it an ideal replacement tyre for heavy trucks including prime movers, fuel bowsers, bulk cement carriers, other large goods transport vehicles and passenger transport buses plying Sri Lanka's roads, the Company said.
Launched as part of CEAT Kelani's continuing commitment to support the national effort to reduce dependence on imports and conserve foreign exchange, the CEAT Winmile X3 AW will fit commercial vehicles such as the Renault 460 DXI, DAF XF 105/510, Tantri TBK 43, MAN PGS 440, Isuzu Giga Truck Mixer, UD Nissan Prime Mover, DAF CF 321 Dynamic 33,000 litre fuel tank and cement carriers and passenger bus models of brands such as Lanka Ashok Leyland, Yutong and King Long.
Backed by a three-year warranty from the date of manufacture, the new truck bus radial tyre is designed to deliver extra mileage and better performance in Sri Lankan conditions, the Company said. Zig-zag grooves and sipes reduce irregular wear and improve tyre life, helping increase traction in new as well as worn tyre conditions. A groove base protector in the center and shoulder of the tyre defend against stone drilling and damage for enhanced off-highway durability. The high bonding belt compound used translates to excellent belt durability and retreadability, while an optimised tread design and cooler tread compound provide high abrasion resistance for extra mileage as well as cut and chip resistance.
"This is a premium product in the TBR segment and reflects the depth of our understanding of the needs of the transportation sector in Sri Lanka and our continuing commitment to new product development despite the challenges in the market," CEAT Kelani Managing Director Mr Ravi Dadlani said. "With costs of operation rising across the board for our commercial tyre customers, the need for competitively priced products engineered to meet or exceed the performance parameters of imports has never been as acute, and we are meeting this need with our Winmile range of tyres."
The CEAT Winmile AW tyres are the only Truck Bus Radial tyres produced in Sri Lanka. The result of a phased execution of a Rs 3 billion investment begun by the Company four years ago to expand product range, capacity and quality across multiple tyre categories, CEAT Kelani's ground-breaking TBR production facility commenced production in April 2019 and has the capacity to supply 50% of the country's current requirement of truck bus radials.
The manufacturer of nearly half of Sri Lanka's pneumatic tyre requirements, CEAT Sri Lanka is considered one of the most successful India – Sri Lanka joint ventures. The joint venture's cumulative investment in Sri Lanka to date exceeds Rs 8 billion. The company's manufacturing operations in Sri Lanka encompass tyres in the radial (passenger cars, vans and SUVs), commercial (nylon and radial), motorcycle, three-wheeler and agricultural vehicle segments.
The CEAT brand accounts for market shares in Sri Lanka of 48 per cent in the Radial segment, 80 per cent in the Truck category, 84 per cent Light Truck tyre category, 51 per cent in the Three-Wheeler tyre segment, 36 per cent in the Motorcycle tyre segment and 72 per cent in the Agricultural vehicle tyre category. CEAT Sri Lanka exports about 20 per cent of its production to 16 countries in South Asia, the Middle East, Africa and the Far East.
YOU MAY ALSO LIKE