Index surges as it hits 1 week high
The bourse closed on a positive note with both ASPI and S&PSL20 indexes demonstrating a marginal upward trend during the day to close at 8,950 gaining 57 points.
The Banking sector counters had revitalized interest and aided the index to perform exceptionally well, after CBSL governor's comments that the Sri Lanka's public bank deposits and stability of the banking system will be safeguarded in any reorganization of domestic debt.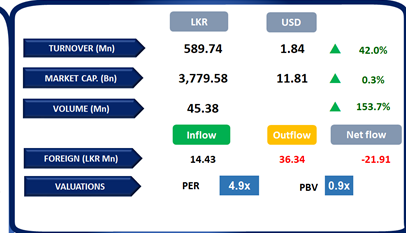 Furthermore, positive investor interaction caused an upward movement in treasury share counters as the 3M yields declined marginally at the yesterday's auction signaling in a future dip in yields.
Meanwhile the turnover was recorded as LKR 589.7Mn, 34.4% lower than the monthly average of LKR 899.6Mn, backed by the Banking sector (27%), Food, Beverage, and Tobacco sector (15%) and Insurance sector (11%) respectively.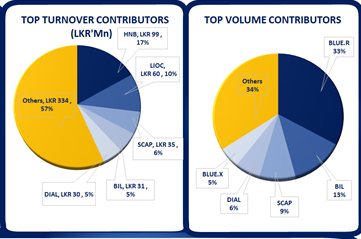 Mixed activities enticed in the secondary market
The secondary bond market enticed mixed activity during the day after continuous selling interest was witnessed during the previous sessions. Moreover, ultra-thin volumes and limited activities were observed on the 15.05.2026 maturity, with trades taking place at 30.65% whilst 01.05.2027 and 15.09.2027 traded at 28.50%.
Courtesy: First Capital Research
YOU MAY ALSO LIKE