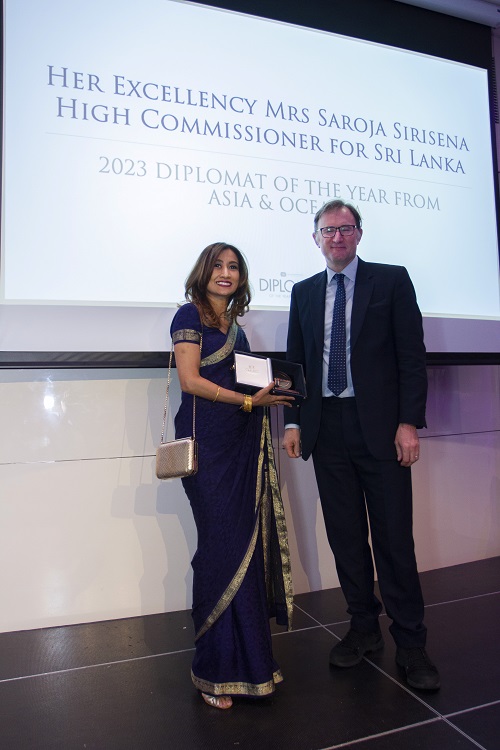 High Commissioner Saroja Sirisena awarded the Diplomat of the Year from Asia & Oceania
Sri Lanka's High Commissioner in London Saroja Sirisena was awarded the Diplomat of the Year from Asia & Oceania at the prestigious DIPLOMAT magazine annual Awards Ceremony 2023 at the Royal Over-Seas League on Monday 24 April 2023.
The Awards Ceremony recognises outstanding work and achievements of London's diplomatic community who are trying to better their nations' well-being and is in its thirteenth year. DIPLOMAT magazine identified 10 categories that recognise different levels of diplomacy, and winners were nominated by their fellow diplomats.
Referring to London as the global centre for diplomacy, with over 180 diplomatic missions DIPLOMAT's Editor, Venetia de Blocq van Kuffeler stated that a posting in London remains one of the highlights of any diplomat's career. She added that the winners are testimony to their hard work, dedication and professionalism.
Saroja Sirisena previously served as Ambassador to Austria and Consul General in Mumbai as well as serving in Sri Lanka's Missions in Paris, Brussels and Geneva.
Over 150 guests including Heads of Mission and diplomats from over 80 countries attended the Awards Ceremony.
YOU MAY ALSO LIKE