Investors on the sidelines waiting for news on the IMF deal
Bourse closed in green and held its upward momentum during today's session to close the day at a 1-week high of 9,670, gaining 74 points.
The banking and energy sector counters remained the top contributor to the index whereas profit-taking was extended on TILE due to the ex-dividend (XD).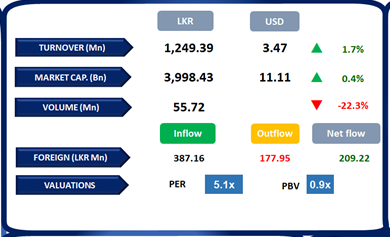 Activities also took a dull turn as investors took a sidelined approach with the expectation on the IMF board level agreement to be inked on Mar 20, 2023.
Meanwhile, market turnover marginally improved compared to yesterday to LKR 1.2Bn (-36% cf. monthly average turnover of LKR 2.0Bn) dominated by the Capital Goods sector (26%), Food, Beverage & Tobacco sector (20%), and Materials sector (19%).
YTD net foreign inflow also surpassed LKR 3.8Bn as TKYO.X led the day's foreign purchases.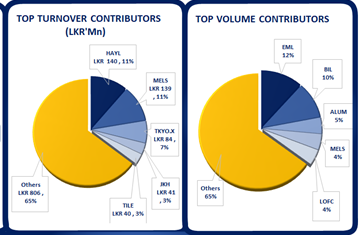 Buying spree on Short tenor persists
The secondary market continued to generate thin volumes and limited activities as investors remained on the sidelines waiting for a clear direction on the macroeconomic front ahead of the upcoming IMF executive meeting.
However, on the short end of the curve, yields slightly edged down as buying interest continued on 01.06.25 and 01.07.25 maturities which traded in the range of 31.50%-31.20% while 01.05.24 maturity hovered between 31.55% -30.75%.
Meanwhile, mixed sentiment was observed on the mid tenor where 01.05.27 and 15.09.27 maturities were seen trading between 28.25%-28.40%.
Moreover, CBSL announced the largest value issue of T-Bills in the year amounting to LKR 125.0Bn through an auction to be held on 22nd Mar 2023.
Courtesy: First Capital Research
YOU MAY ALSO LIKE