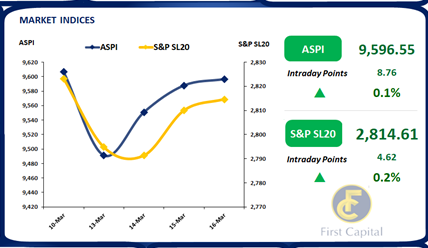 ASPI and S&P close the day flat as bulls lose steam post mid-day
ASPI and S&P closed the day flat despite reflecting gains during the early hours of trading as profit-taking emerged during the day mainly on banking sector counters and index-heavy weights.
The diversified financials counters remained the top contributor to the index and largely led by LOLC. On a positive note, Hayleys Group counters witnessed significant investor interest following the dividend announcement.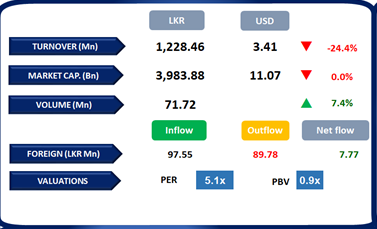 Despite the sharp decline in weekly treasury bill yields across all maturities, treasury counters displayed a notable profit-taking session during the day. Market turnover remains subdued at USD 1.2Bn (-38% cf. monthly average turnover of LKR 2.0Bn) contributed by the Capital Goods sector (32%), Materials sector (14%), and Food, Beverage & Tobacco sector (11%).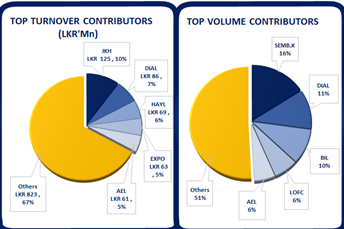 Secondary market active on subdued volumes
The secondary market showcased lackluster sentiment with investors mostly on the sidelines during the day. Amidst thin volumes recorded during the day, few notable trades took place on the mid-tenure maturities, with 15.09.27 maturity recording trades at 28.25% whilst 01.07.25 maturity observed trades between 31.75%-31.50%. Meanwhile, 15.09.27 maturity also noted few trades at 28.50% during the day.
Courtesy: First Capital Research
YOU MAY ALSO LIKE