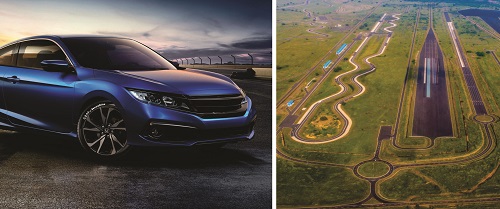 CEAT revisits Indian test track to put its radial tyres through their paces
Six sizes of locally-manufactured CEAT radial tyres were recently tested rigorously against the major competitor brands as part of an ongoing process to further develop CEAT's existing product range and assess individual product performance by key value propositions identified by customers.
To fulfil this mission, CEAT commissioned a series of track tests at India's state-of-the-art National Automotive Test Tracks (NATRAX) of the National Automotive Testing and R&D Infrastructure Project (NATRiP) in Indore. CEAT Kelani Holdings conducted similar tests for the Company's motorcycle tyres at this location earlier this year.
The latest benchmarking process took place to score the selected CEAT radial tyres in four value drivers – low noise, ride comfort, handling stability, and dry and wet braking stability. The tests pitted the chosen CEAT radials against counterparts from USA, Japan, Singapore and Sri Lanka.
The final test scores revealed that CEAT 185/70R14 Fuelsmarrt, 195/65R15 Secura Drive, 185/65R15 Secura Drive, 205/55 R16 Secura Drive, 175/65 R15 Secura Drive, and 265/70 R16 Czar HP tyres were superior in some key aspects, and on par in terms of other features with the products of the competitor brands, the Company disclosed.
More specifically, the track tests affirmed that in comparison to the competitor brands, the CEAT Secura Drive, Fuelsmarrt and Czar HP tyre patterns are better for wet and dry braking and offer superior braking stability. Additionally, all six of the CEAT tyre sizes were rated superior or comparable for ride comfort, while the Secura Drive and Fuelsmarrt tyres were declared on par with their counterparts in generating minimal noise.
It was also observed that the 175/65 R15 Secura Drive performance could be marginally improved in the handling stability parameters. The Company said these findings have now been incorporated in the pattern architecture for new and improved products that will lead to enhanced performance.
Commenting on the latest NATRAX track tests, CEAT Kelani Managing Director Mr Ravi Dadlani said: "As a brand that supplies almost half the tyre requirements of the country, CEAT is committed to listening to voice of consumers and delivering products that are suited to their needs and local conditions. These tests we conduct enable us to consistently fine-tune our offerings, meet the expectations of our consumers, and release products that are on par with competitor tyres, if not better. The heavy investments we make in such testing even in difficult times like the present, demonstrate our commitment to quality above all else."
The four Key Value Propositions around which the track tests revolved were dictated by consumer insights from research findings that highlighted the main drivers in the customers' purchase decisions in the radial tyre segment.
The tyre variants and sizes that were tested fit vehicles such as the Honda Civic, Civic EK3 and Jazz, Hyundai i20 and Venue, Mahindra Thar, Mitsubishi Montero and Sportero, Nissan Leaf and Patrol, Renault KWID, Suzuki Spacia, and Toyota Allion, Aqua, Axio, Corolla, Hilux Vigo, Land Cruiser, Premio, Prius and Vitz which are popular cars and SUVs on Sri Lankan roads.
CEAT Kelani Holdings is considered one of the most successful India – Sri Lanka joint ventures. The joint venture's cumulative investment in Sri Lanka to date exceeds Rs 8 billion. The company's manufacturing operations in Sri Lanka encompass tyres in the radial (passenger cars, vans and SUVs), commercial (nylon and radial), motorcycle, three-wheeler and agricultural vehicle segments.
The CEAT brand accounts for market shares in Sri Lanka of 48 per cent in the Radial segment, 80 per cent in the Truck category, 84 per cent Light Truck tyre category, 51 per cent in the Three-Wheeler tyre segment, 36 per cent in the Motorcycle tyre segment and 72 per cent in the Agricultural vehicle tyre category. CEAT Kelani exports about 20 per cent of its production to 16 countries in South Asia, the Middle East, Africa and the Far East.
YOU MAY ALSO LIKE