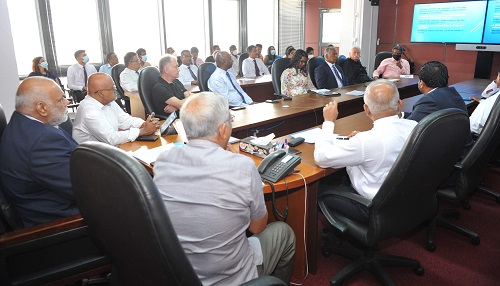 Marine industry sector forms their own chamber
Sri Lanka's marine industry sector representing boat and ship building and other related service providers organized themselves into an industry chamber recently to take collective efforts for the development of their industrial sector.
The inaugural meeting of the Chamber of Marine Industries of Sri Lanka was held at the Sri Lanka Export Development Board (EDB) with the presence of Chairman, EDB and the representatives of the industries of boat and shipbuilding, nautical tourism, chartering, and the marine & offshore industry cluster.
Sri Lanka Marine Industry Sector is an emerging export sector with high potential offering a wide variety of products and services to the international market. This sector was identified as a focused sector by the National Export Strategy (NES) 2018-2022.
The establishment of a strong Industry Chamber dedicated to the marine industry is one of the activities in the NES Plan of Actions in order to strengthen the industry and thereby raise the industry's performance.
Therefore, the EDB and the Boat Building Technology Improvement Institute (BTI) initiated work related to the establishment of a dedicated Industry Chamber for the sector considering the benefits that could be obtained by all the stakeholders acting collectively. Accordingly, as a result of the discussions held at the first stakeholder meeting in the end 2020, the "Chamber of Marine Industries of Sri Lanka" was established.
Speaking on the occasion, EDB Chairman said that the newly established chamber can act on behalf of the whole industry and represent all stakeholders being the apex body of the marine industry at any forum, develop strategic and promotional plans to boost the industry, etc.
Mr. Indra Kaushal Rajapaksa was appointed as the Chairman of the Chamber, while Mr. Isuru Gunatilaka was elected as the Secretary and Ms. Anjalika Perera as the Treasurer. The rest of the members of the Board of Directors were appointed from the industries of Ship Building & Ship repairing, Vessel Operations & service providers, Logistic, Shipping & Marine Services, Offshore Services, Certifications, chemical Suppliers, Supply of Seafarers and Master Divers.
The participants were of the view that they would be able to stand as one entity representing all the relevant stakeholders of the Sri Lanka Marine industry which is timely as they can take collective efforts for the development of all the sectors coming under the industry to create the much-needed Blue Economy for the nation.
YOU MAY ALSO LIKE