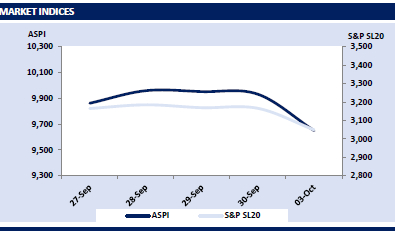 Market nosedives as retail favourites hit the skids
Bourse dived deep in red during today's session with the intraday loss hitting a 5-month high of 281 points, while the market came to a halt at the latter part of the session as S&P SL20 index plunged over 5% from the previous close.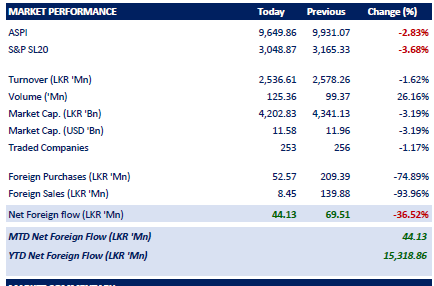 Selling pressure took charge as soon as the market opened while profit booking intensified in retail favourite counters LIOC and EXPO, following the fuel price revision and significantly shrinking freight rates, respectively.

In consequence, ASPI declined sharply throughout the session, and closed for the day at 9,650 losing 281 points. Furthermore, as bond yields surged higher in the last primary auction, retail interest toned down resulting in a shallow turnover of LKR 2.5Bn (-40% cf. monthly average turnover of LKR 4.2Bn) led by a joint contribution of 43% from the Energy sector (23%) and Transportation sector (20%).
Buying interest returns on recent auction maturities
The secondary bond market witnessed revitalized buying interest during today's proceedings, where buying was mainly centered on the recent auction maturities. 01.07.25 maturity exchanged hands between 30.90%-30.77% whilst 15.01.28 maturity traded hands between 31.05%-30.90% and 01.07.32 maturity traded between 29.75%-29.55%. However, overall volumes continued to remain low during today's session.
Courtesy: First Capital Research
YOU MAY ALSO LIKE