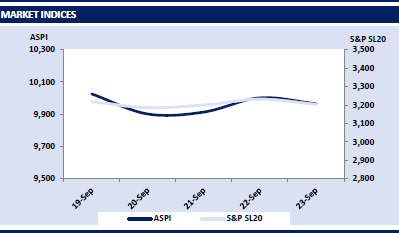 Bourse closes in red as Turnover slumps to 3½ - week low
Bourse slipped to the red zone as investors resorted to profit booking while recording a turnover at 3 ½ - week low. However, Banking sector and Treasury counters witnessed collection as investors anticipated a positive outcome on the upcoming debt restructuring meeting.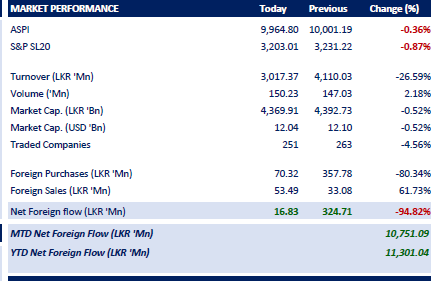 Meanwhile, index displayed sizable volatility throughout the session as profit booking was mainly witnessed on Hotels and Materials sectors, which led the index to close the day at 9,965, losing 36 points.
Turnover dipped to LKR 3.0Bn (-24% cf. monthly average turnover of LKR 4.0Bn) due to the slowdown in retail participation while Capital Goods and Food, Beverage & Tobacco sectors continued to dominate the market turnover with a joint contribution of 42%. Despite a drop, foreign investors remained net buyers for the 10th consecutive day.

Debt market came to a complete halt ahead of the international creditors meet. Secondary market extended the dull sentiment as activities came to a complete standstill as investor interest was spanned on SL's brief to international creditors which is scheduled to take place today.
Bond market sentiment is contingent on the outcome of today's virtual event which is focused on reviewing recent macro developments and the reform package with the IMF staff. This open engagement with the creditors is vital to the next steps of the debt re-structuring process and IMF progressions.
Courtesy: First Capital Research
YOU MAY ALSO LIKE