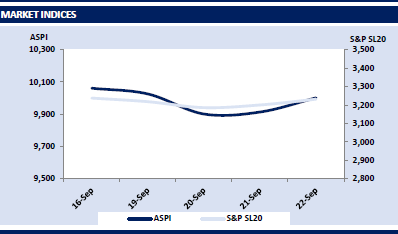 Index gains in the midst of mixed interest
Bourse closed in green for the second straight session amidst mixed interest as profit booking built up in the banking sector while buying interest renewed in the plantation sector counters.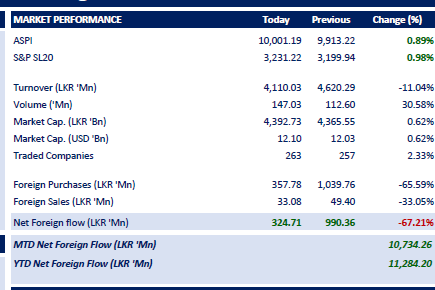 Index opened on a solid footing and reached the 10,000 level yet again as it peaked to an intraday high of 10,048. Subsequently, index took a sideways drift through the rest of the session and finally closed the day positively at 10,001 gaining 88 points.
Turnover was recorded at LKR 4.1Bn (+3% cf. monthly average turnover of LKR 4.0Bn) with Capital Goods sector and Food, Beverage & Tobacco sector dominating the overall turnover with a joint contribution of 49%. EXPO topped foreign buying consecutively at LKR 318.4Mn while MTD foreign buying of EXPO mounted to LKR 11.8Bn.

Bonds stay muted with all eyes on tomorrow
The secondary market yield curve remained broadly unchanged while overall market witnessed limited activities with ultra-thin volumes, as investors adopted a wait and see approach, ahead of SL's brief to international creditors tomorrow, on which SL will lay out the full extent of its economic difficulties and plans for a debt restructuring process via legal firm Clifford Chance. Meanwhile, in the midst of mixed activities, 01.07.32 maturity hovered in the range of 29.52%-29.48%.
Courtesy: First Capital Research
YOU MAY ALSO LIKE