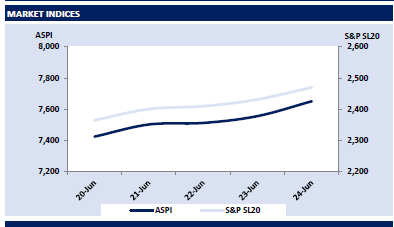 Broad market up with a 2-week high turnover
Bourse extended its positive momentum for the 4th straight day while recording the highest intraday gain in 2-week as hefty buying interest was witnessed on major blue-chip companies.
Index surged by over 60 points as soon as the market opened and continued to trade positively throughout the session while closing the day at 7,651, gaining 95 points.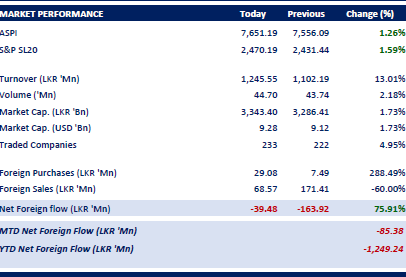 Moreover, EXPO continued its upward movement as investors actively traded on the share after the company announced a dividend of LKR 8.19 on Wednesday.
Meanwhile, turnover was recorded at a 2-week high of LKR 1.2Bn, backed by significant contribution from Banking sector (23%) and Energy sector (19%), in which LIOC alone contributed 19% to the turnover with active retail participation as investors anticipated a fuel price hike during the weekend.
However, foreign investors remained net sellers while recording low participation.

Bond market on pause
The secondary bond market witnessed a complete standstill as the market participants opted to lie low without engaging in any active trading.
Courtesy: First Capital Research
YOU MAY ALSO LIKE