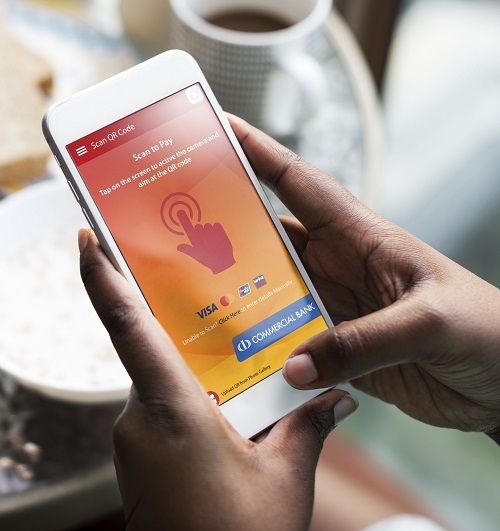 Up to 30% cash-back and daily prizes of Rs 10,000 for Q+ Payment App users
The Commercial Bank of Ceylon has unveiled a series of offers including cash-backs, cash prizes, and free service bundles for its Q+ Payment App users who Scan & Pay to select vendors of groceries, food items, utility services and clothing.
These offers will be available until September 2022 on specific days and during certain periods at Keells supermarkets, Sen-Saal restaurants and Fashion Bug (Pvt) Ltd, and for payments to SLT-Mobitel the Bank said.
Additionally, Commercial Bank Visa card holders who pay for their purchases via the Q+ Payment App at any LANKAQR merchant enabled with Visa acceptance, will be eligible for a 30% cash-back offer, up to a maximum of Rs 300 per transaction for the first three payments performed during the promotion period. The offer is also valid for Visa enabled LANKAQR bill payments through the Q+ Payment App, until the close of September.
Q+ Payment App users are also entitled to a 20% cash-back deal, up to a maximum of Rs 650 for their purchases at Sen-Saal every Saturday and Sunday until the 26th of June. Similarly, Fashion Bug will offer a 25% cash-back to shoppers, up to a maximum of Rs 2500, on 25th June 2022.
The Keells supermarket chain too has joined the LANKAQR promotion and will be gifting Rs 10,000 to one lucky shopper every day from among those who Scan & Pay via the App, until 7th July.
Furthermore, customers who settle their SLT-Mobitel mobile bills by scanning the LANKAQR code appearing on their eBills with the Q+ Payment App, will be rewarded with 5GB of free data, 300 Mobitel-to-Mobitel (M2M) voice call minutes and 300 M2M SMS. This offer is subject to a minimum bill payment value of Rs 1000.
The Q+ Payment App which is already the fastest-growing QR app in the country and the first QR-based payment application to be launched under LANKAQR, was recently declared the number one Payment App by LANKAQR following an analysis of its latest statistics. The Q+ Payment App was accorded this recognition based on the data collected by LANKAPAY on the number of successful 'Scan & Pay' transactions performed by scanning the LANKAQR code issued by merchants.
To become LANKAQR's No 1 acquirer and the market leader, the Q+ Payment App had to compete against 24 other mobile applications capable of reading LANKAQR codes that were issued by 19 entities of competitor banks and financial institutions, the Bank said.
Commenting on this achievement, the Chief Manager of Commercial Bank's Card Centre Mr Nishantha De Silva said: "LANKAQR's recognition of Q+ as the payment app with the highest recorded transaction volume in the recent past, in the face of fierce competition and the non-conducive economic climate in the country, is a testament to the trust our customers have placed in our technology. This is an immense encouragement to the Bank's road-mapped digital journey."
The Q+ Payment App is currently the only payment app in Sri Lanka compatible with VISAQR, Mastercard QR and UnionPay QR. In October 2021, the App surpassed the 100,000 registered customers milestone, doubling its customer base in just five months. LANKAQR is a project initiative from the Central Bank of Sri Lanka to ensure all QR codes and QR based transactions in Sri Lanka are standardised and interoperable.
Sri Lanka's first 100% carbon neutral bank, the first Sri Lankan bank to be listed among the Top 1000 Banks of the World and the only Sri Lankan bank to be so listed for 11 years consecutively, Commercial Bank operates a network of 268 branches and 940 automated machines in Sri Lanka. Commercial Bank is the largest lender to Sri Lanka's SME sector and is a leader in digital innovation in the country's Banking sector. The Bank's overseas operations encompass Bangladesh, where the Bank operates 19 outlets; Myanmar, where it has a Microfinance company in Nay Pyi Taw; and the Maldives, where the Bank has a fully-fledged Tier I Bank with a majority stake.
YOU MAY ALSO LIKE