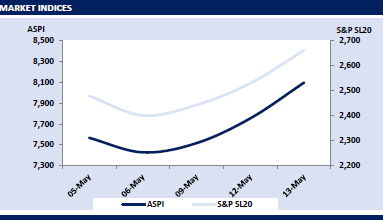 Massive rally in the CSE following appointment of new prime minister
The appointment of the New Prime Minister led to a massive rally in the Colombo Bourse, with the index crossing the 8,000 reaching a 1-Month high amidst renewed investor confidence on expectation of political stability.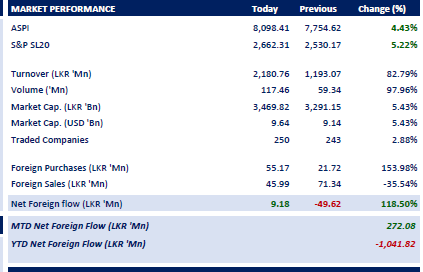 Moreover, revitalized by the new found investor confidence, market turnover bounced back up and recorded a 2-week high of LKR2.2Bn. Keeping up with the previous trend, transportation sector led the daily turnover with a contribution of 42% whilst Food & Beverage had the next best contribution of 14%. Meanwhile foreign investors were the net buyers for the day.

Bond market stayed on mute
The secondary bond market activities witnessed a complete standstill as the market participants decided to adopt a wait and see approach in seeking stability in the political front before committing towards any meaningful trading.
Courtesy: First Capital Research
YOU MAY ALSO LIKE