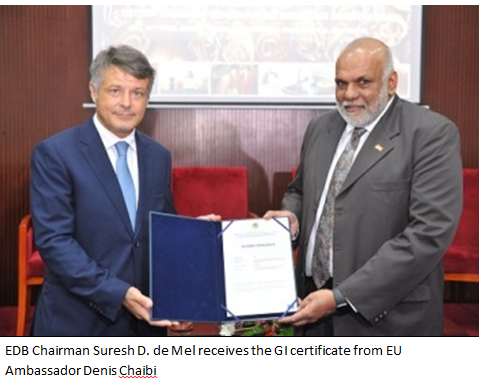 Major boost for Ceylon Cinnamon with GI certification from the European Union
European Union (EU) today handed over the Geographical Indication (GI) certification to Ceylon Cinnamon making it Sri Lanka's first GI-certified product. This happened at an official ceremony attended by the EU Delegation to Sri Lanka and the Sri Lanka Export Development Board (EDB).
The GI application was made by the EDB and supported by the EU under the EU-Sri Lanka Trade Related Assistance Project and through technical assistance from UNIDO and the International Trade Centre (ITC). This, together with support from other private and public stakeholders, has been instrumental in achieving Sri Lanka's first GI certification.
Geographical Indication, which protects the name and trademark of a special product identified with a particular region and production practice, will differentiate Ceylon Cinnamon from other cinnamons of lower quality and bring a competitive advantage.
Sri Lanka is the world's largest producer and exporter of cinnamon accounting for 90% of the global market share. Although there are many varieties of cinnamon, Ceylon Cinnamon is pure and considered superior due to its delicate taste and properties that contribute to many health benefits.
Sri Lanka enjoys a fruitful trading relationship with the EU. The EU is Sri Lanka's second largest export market and is a beneficiary of the EU's Generalised System of Preferences (GSP+), which provides tariff reduction on various products, and has given a big boost to the island's exporters.
The European Union launched the 'EU-Sri Lanka Trade Related Assistance' project in 2015 to increase trade and competitiveness of Sri Lankan SMEs in regional and EU markets. This 8 million euro project, implemented by ITC and UNIDO provided technical assistance to the National Quality Infrastructure, and the Food, Beverages, Spices and Concentrates sectors. Through this project, EDB was supported in its application process for Cinnamon GI registration.
YOU MAY ALSO LIKE