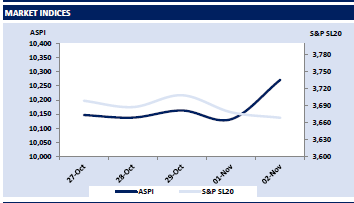 Bourse back in the green zone
Bourse jumped back to the green zone from yesterday's marginal fall while recording a 1 ½ -week high gain. Index started with minimal volatility hitting an intraday low of 10,084 within the initial minute.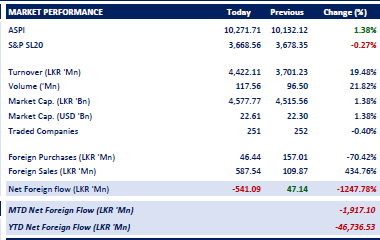 Eventually, as traders were brimming with confidence market reacted positively and turned back to the green zone trading positively till the end. During the latter part of the session, index hit an intraday high of 10,322 before closing at 10,272 gaining 140 points.
Turnover was recorded at LKR 4.4Bn, led by the Transportation sector, followed by the Food, Beverage & Tobacco sector accounting for a joint contribution of 47%. Foreign investors turned net sellers while recording low participation.

In the debt market yields closed flat as market remained on sidelines. The secondary market yield curve remained broadly unchanged while overall market was at a standstill as market participants continued to be in the sidelines.
During the day, the only trade was seen pertaining to the 03M bill which hovered in the range of 8.10%-7.80%. Meanwhile, at the LKR 66.0Bn bill auction held today, 06M bill and 01 Yr bill rose by 05bps and 08bps to 8.21% and 8.26% while the yield of 03M bill declined by 25bps to 8.18%.
Courtesy: First Capital Research
YOU MAY ALSO LIKE