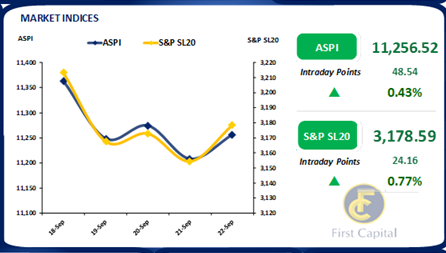 ASPI concludes the week with a mixed sentiment
Broad market rebounded positively during the day with an intraday gain of 49 points following the finalization of the DDO process. Accordingly, the CBSL converted provisional advances to T-Bills and extended maturity for T-Bill worth LKR 2.4Tn.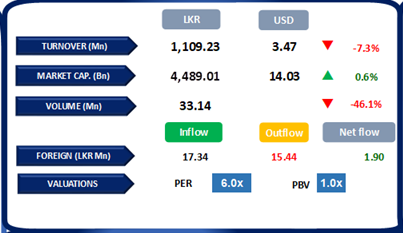 Buoyed by external optimism, the index maintained a positive trajectory throughout the day, with investor focus primarily centred on Banks and index heavy weights.
Moreover, active collection on CARE.N was witnessed during the day, driven by both foreign and retail participants as the manufacturing sector started to rebound due to pent-up demand after a significant drop in inflation.
Despite the market being positive, investors remained on the sidelines displaying thin volumes awaiting clear direction on the interest rates, as the CBSL raised the cutoff rates by over 50bps at the recent T-Bill auction.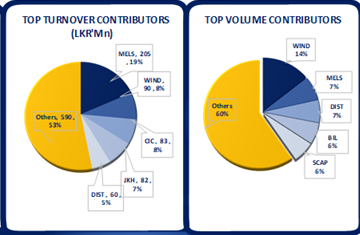 In the midst of low volumes, turnover was recorded at LKR 1.1Bn remaining 41% lower cf. monthly average turnover of LKR 1.9Bn and was largely led by Food, Beverage and Tobacco (30%) and Capital Goods (15%) sectors.
Yield rates on a marginal decline as DDO strategies confirm
Resulted by the CBSL restructuring its T-Bill portfolio by converting its provisional advances to T-Bills and extending maturity for T-Bill worth LKR 2.4Tn on the 21st Sep-23 in line with the DDO process, a T-Bill auction worth of LKR 50.0Bn was announced on the 22nd Sep-23 where LKR 20.0Bn is scheduled to raise out of 91-day maturities, LKR 15.0Bn from 182-day maturities whilst another LKR 15.0Bn is to be raised from 364-day maturities.
Furthermore, a bond auction worth of LKR 220.0Bn was also announced to take place on the 25th Sep-23 where LKR 135.0Bn is to be issued from 01.06.26 maturity whilst LKR 85.0Bn is to be issued from 01.07.28 maturity.
Moreover, influenced by the above restructuring and auction announcements the yield rates marginally came down where 01.08.26 tenor traded at 15.25% and 01.05.28 tenor traded at 14.20% during the day. On the external side LKR broadly remained stagnant against the greenback recording at LKR 324.6 to end the day.
Courtesy: First Capital Research
YOU MAY ALSO LIKE