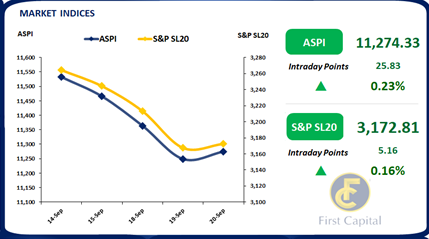 Bullish sunrise to green sunset
The market embarked on a bullish charge as the opening bell rang in the morning and gradually settled into a more subdued pace with subtle volatility during the latter part of the session, marked by heightened investor interest on banking and index-heavy weights.
The market eventually closed the day in the green zone at 11,274, bagging a gain of 26 points. Moreover, there was active investor engagement in SCAP and AAIC following the announcement of the LKR 293.0Mn Bata Shoe Company acquisition, while MELS and DIST garnered investor interest due to their attractive share valuations.
Meanwhile, the market turnover reached LKR 1.1Bn, marking a 3-day high, albeit 43% lower than the monthly average turnover of LKR 1.9Bn, primarily driven by crossing transactions.
The Food, Beverage, and Tobacco sector, in tandem with the Banking sector, collectively accounted for a significant 53% contribution to the overall turnover throughout the day. Furthermore, foreign investors continued as net sellers for the day, with an outflow of LKR 67.7Mn.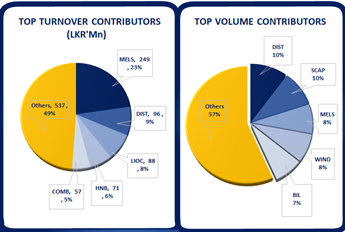 CBSL auction fully subscribed, interest mainly on 91-day maturity
At the weekly CBSL auction that took place today for LKR 170.0Bn, CBSL fully accepted the offered LKR 170.0Bn, with majority accepted from the 91-day maturity (with an acceptance rate of 157.0% cf. offered LKR 70.0Bn).
Furthermore, despite the higher acceptance, weighted average yields of the 91-day maturity declined by 04bps to 18.12% whilst the 364-day maturity also recorded a slight decline by 03bps to 13.32%. However, despite the relatively higher rate of acceptance compared to the 364-day maturity (74.5% cf. 38.5%, respectively) weighted average yields of the 182-day maturity inclined marginally by 19bps to 15.38%.
Meanwhile at the secondary market, slightly higher quotes were observed on the T-bills after the CBSL increased the cut-off rates at the auction held today. Therefore, light activities were observed on the 182-day and 365-day maturities, which traded at 16.00% and 14.00%, respectively.
Courtesy: First Capital Research
YOU MAY ALSO LIKE