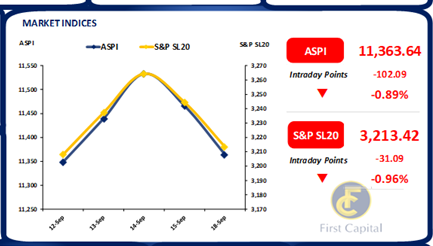 Investor participation weakens triggering poor turnover
Market continued to witness the second streak of losses during the day as investor participation sharply weakened with speculations on IMF staff level agreement which urged investors to hold the sidelines.
Consequently, index moved on a steep downtrend as selling sentiment dominated broadly across all segments while the ASPI closed in the red at 11,364 losing 102 points with heavy weights such as COMB, SAMP and HAYL contributing negatively.
However, foreign interest was predominantly centered on TKYO as it was the top contributor to overall foreign inflows during the day. Meanwhile, Turnover continued to deteriorate amidst poor retail participation and recorded at LKR 659.8Mn (-72% cf. monthly average turnover of LKR 2.4Bn) while Material sector along with the Banking sector generated a joint contribution of 36%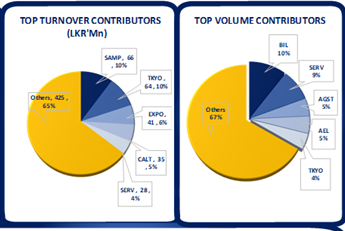 .
Bond yields inch up amidst selling interest
The secondary market yield curve edged up on the short to mid end of the curve as slight selling interest sparked on the auction maturities. In the midst of low volumes, 01.08.26 maturity traded at 14.30%, whilst on the mid end of the curve, 01.05.28 and 01.07.28 maturities edged up and traded at 13.75% and 13.80%, respectively. Moreover, CBSL announced an issue of LKR 170.0Bn T-Bills through an auction to be held on 20th Sep 2023, out of which LKR 70.0Bn is to be raised from 91-day maturity, LKR 60.0Bn is expected to be raised from 182-day maturity while LKR 40.0Bn is to be raised from 364-day maturity.
Courtesy: First Capital Research
YOU MAY ALSO LIKE