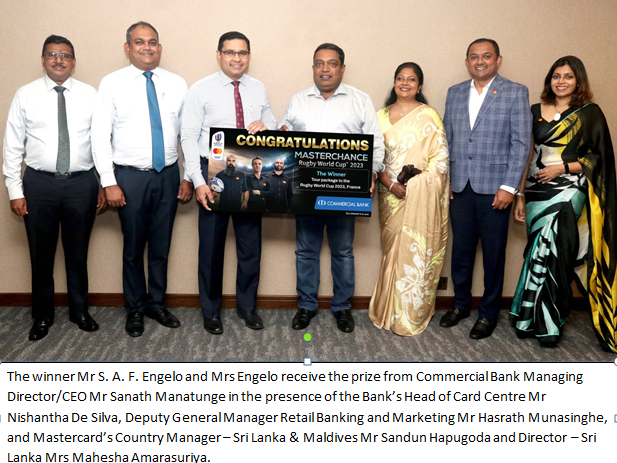 ComBank Mastercard customer wins visit for 2 to Rugby World Cup semi final in Paris
A Sri Lankan has won a truly priceless opportunity to be in the thick of the spectacular action of the 2023 Rugby World Cup in France, thanks to a promotion conducted by the Commercial Bank of Ceylon and Mastercard, a worldwide partner of the event.
Drawn from thousands of cardholders who used their Commercial Bank issued Mastercard Credit Cards between April and June this year, Mr. S. A. F. Engelo has won two Rugby World Cup 2023 packages from Mastercard for himself and his spouse to watch the second semifinal of this global event.
This is an all-inclusive four-day tour package for two that includes airfare, hotel accommodation, tickets to the 2nd semifinal match of the Rugby World Cup 2023, and Mastercard's 'Priceless' access and experiences, which allow fans to get closer to the tournament and the athletes they love.
Speaking at the presentation of the two packages to the winner of the promotion, Commercial Bank's Deputy General Manager – Retail Banking & Marketing Mr Hasrath Munasinghe said: "Commercial Bank and Mastercard have collaborated on many occasions to provide incredible experiences to our Credit Card holders. As one of the main business partners of Mastercard in Sri Lanka, Commercial Bank is delighted to conduct exciting promotions of this nature to offer once-in-a-lifetime opportunities like this to our cardholders."
The second semifinal of the 2023 Rugby World Cup will be played on Saturday, 21st October at Stade de France, the National Stadium of France at Saint-Denis, north of Paris.
Commercial Bank and Mastercard offered a similar all-expenses-paid opportunity to two credit card holders to watch the semi-finals of the 2019 Rugby World Cup between New Zealand and England in Yokohama, Japan as well.
Commercial Bank cards are the market leader in Sri Lanka. The Bank offers global credit card brands in the Silver, Gold and Platinum tiers and a variety of cards in the premium segment. The cards are equipped with 'Tap 'n Go' NFC technology and are backed by a strong NFC Point-of-Sale (POS) network. ComBank Cards offer an exciting array of promotions and offers across all categories and also offer the Max Loyalty Rewards scheme for selected card categories covering both credit and debit cards.
Sri Lanka's first 100% carbon neutral bank, the first Sri Lankan bank to be listed among the Top 1000 Banks of the World, Commercial Bank operates a network of 271 branches and 957 automated machines in Sri Lanka. Commercial Bank is the largest lender to Sri Lanka's SME sector and is a leader in digital innovation in the country's Banking sector. The Bank's overseas operations encompass Bangladesh, where the Bank operates 20 outlets; Myanmar, where it has a Microfinance company in Nay Pyi Taw; and the Maldives, where the Bank has a fully-fledged Tier I Bank with a majority stake.
YOU MAY ALSO LIKE