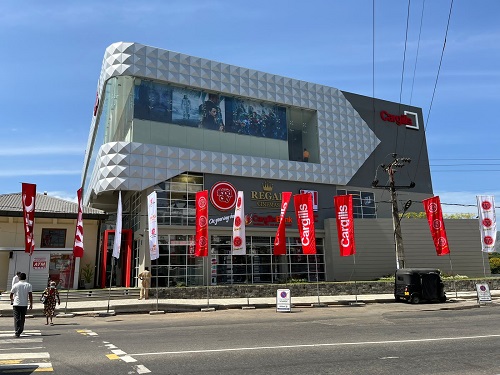 The 5th Cargills Square opened in Bandarawela
Cargills unveiled its latest Cargills Square Mall in the heart of Bandarawela, the fifth Cargills Square and the second mall to be opened during 2023.
The five-story shopping and entertainment complex includes a Cargills Food City supermarket, a Food Court with multiple restaurants, retail shops, a KFC restaurant, and 2 cinema screens including a 3D facility to watch the latest cinematic releases.
The complex also houses a Cargills Bank branch, to provide convenient financial solutions to customers and will create a unique shopping and entertainment hub for families, youth, and visitors to Bandarawela.
The company in a statement said, it envisions to transcend geographical boundaries and make modern, world-class entertainment and shopping facilities inclusive for all communities across the country.
The Cargills Square concept was first introduced in 2013 with the objective of providing entertainment and shopping experiences for customers in areas outside the Colombo city limits.
Following the success of the first Cargills Square in Jaffna, which was the first large-scale commercial investment in the North by a blue-chip company, Cargills subsequently opened three more malls in Gampaha, Dematagoda, and Katubedda.
The location of the Cargills Square mall in Bandarawela, once housed the infamous Cargills department store which dates back to the 1800s. This heritage building has been preserved and transformed by the company to suit the demands of the modern consumer while retaining its rich history. Not too far from the location lies the iconic Bandarawela Hotel – another heritage building which has history going back to the year 1893.
Built with an investment of Rupees 1.6 billion, the project stands as a testament to the Cargills Group's confidence in the potential of the Sri Lankan economy and its commitment to fostering hope and opportunities for the youth.
YOU MAY ALSO LIKE