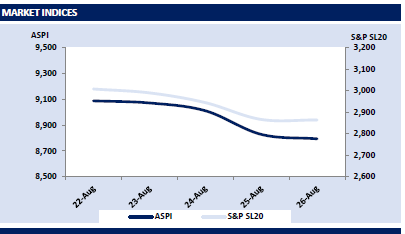 Selling pressure knocks All Share Price Index
Bourse closed marginally in red and recorded losses for the fourth consecutive day as selling pressure emerged owing to margin calls while some investors took a sidelined approach with anticipations on the upcoming interim budget. Index sharply hit the skids soon as the market opened as selling pressure took charge.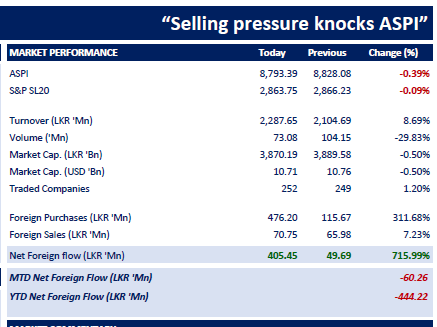 Shortly, index recouped while some activity was witnessed on plantation and hotels and some conglomerates before closing for the day at 8,793 on a marginal loss of 35 points. Turnover remained closely stable at LKR 2.3Bn (-29% cf. monthly average turnover of LKR 3.2Bn) with the Transportation sector and Food, Beverage & Tobacco sectors dominating the turnover by a joint contribution of 43%.

Dull end for the week
The secondary bond market recorded yet another lackluster trading day as market participants continued to adopt a wait and see approach until a staff level agreement is reached between the SL government and the IMF.
Discussions between the two parties are expected to be of utmost importance to the market in order to find a sustainable track to unwind SL's debt. Moreover, it is announced that Japan is seeking to organise a SL creditors' conference, although it is not clear whether top creditor China would join.
Consequently, in the midst of looming uncertainties, activities in the secondary bond market remained at a complete standstill while recording no trades during the day. Meanwhile CBSL announced an issue of LKR 40.0Bn T-bonds through an auction to be held on 30th Aug-22.
Courtesy: First Capital Research
YOU MAY ALSO LIKE