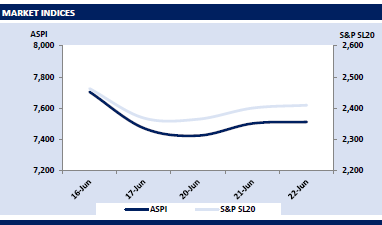 Market remain dull on thin volumes
Bourse continued its upward trajectory and closed the day with a marginal gain as investor sentiment improved with the confirmation of USD 70Mn from the World Bank to import 100,000MT of gas stocks.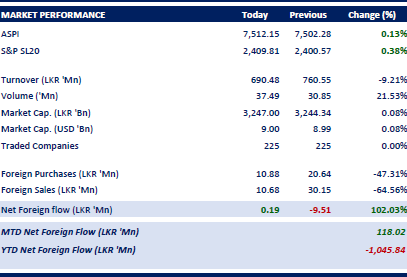 With that, index spiked by over 70 points within the first 30 minutes of the session yet failed to sustain the level as investor confidence was shaken with announcement of Sri Lanka's headline inflation for May, which was up 45.3%YoY.
Turnover for the day was a mere LKR 690.5Mn, which was a 2-month low. Transportation sector dominated turnover, followed by Capital Goods sector, which jointly contributed 55.7% to the today's turnover. Meanwhile, limited foreign activity was observed during the day, with a net inflow of LKR 0.2Mn.

T-bill yields unchanged across the board
The secondary bond market yield curve witnessed some selling pressure during the morning hours of trading, resulting in 01.06.26 maturity trading at 20.47% and 15.01.28 at 21.25%. However, following the bill auction outcome, with steady yields across maturities, market witnessed slight buying interest with 01.06.25 maturity changing hands at 21.0%. However, despite having the bill auction, the overall market witnessed limited activities with thin volumes. Moreover, reflecting the lackluster activity at the bill auction held today, only LKR 30.8Bn was accepted out of the total offered of LKR 93.0Bn, while yields across the board remained unchanged.
Courtesy: First Capital Research
YOU MAY ALSO LIKE