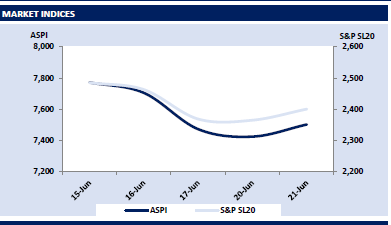 ASPI revives on a narrow gain
Bourse retaliated to the green territory after 5 consecutive losses as investors pinned some hope on market activities following the cabinet of ministers approving the draft 21st amendment to the constitution.
Index opened on an upsurge as investors bargain hunted on popular stocks but gradually lost momentum as participation levels failed to sustain the upbeat.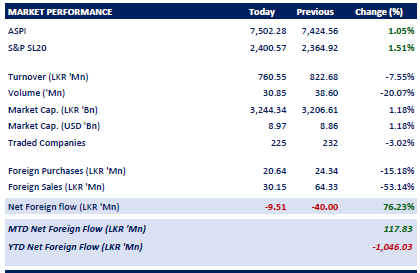 Eventually, index closed positively at 7,502 gaining 78 points backed by significant contribution from blue chip companies. However, turnover remained at a poor level recording at LKR 760.5Mn led by a joint contribution of 54% from the Transportation sector and Capital Goods sector. Foreign investors remained net sellers while recording low participation.
Meanwhile the bond market remained dried-up and the secondary market yield curve remained broadly unchanged as the overall market witnessed a dull sentiment. During the day, 01.06.25, 01.05.27 and 15.01.28 maturities traded at a same rate of 21.00%.
Courtesy: First Capital Research
YOU MAY ALSO LIKE