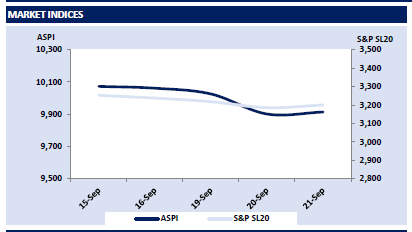 Investors take sidelines as the bull-run slows down
Bourse narrowly moved to green amidst a volatile trading session as most investors took a sidelined approach seeking direction on policy rates as yields plunged at today's bill auction ahead of the Monetary Policy review meeting on the 06th Oct.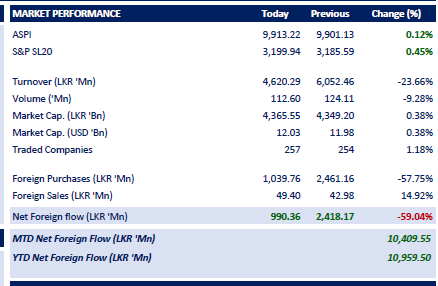 As soon as the market opened, index see-sawed from red to green with sharp volatility and closed positively at 9,913 gaining 12 points while buying interest was centered mostly on LIOC, SAMP and ACL. Turnover took a downturn compared to yesterday's session and recorded at LKR 4.6Bn (+18% cf. monthly average turnover of LKR 3.9Bn) while Transportation sector (26%) and Capital Goods sector (19%) collectively dominated the overall turnover with the largest contribution.

T-Bill auction rates further trimmed down
The primary market yields further trimmed down at the bill auction held today, while the secondary market yields remained broadly unchanged.
Accordingly, the total offered T-Bill amount of LKR 65.0Bn was fully accepted with 85.2% being accepted from 03M T-Bill. Moreover, weighted average yields of 03M, 06M and 01Y T-Bills were cut down to 31.95% (-76bps), 30.63% (-19bps) and 29.87% (-39bps), respectively.
Meanwhile, in the secondary market, investor interest witnessed towards 01.07.32 maturity which traded within the range of 29.30%-29.40% although volumes remained thin amidst limited activities.
Courtesy: First Capital Research
YOU MAY ALSO LIKE